Treatments for chin, neck and cleavage
We usually pay a lot of attention to care of our face, sometimes forgetting that our neck and cleavage can still reveal our real age.  Fat deposits on lower face may create double chin, moreover furrows on neck and cleavage may  spoil a beautiful appearance of young-looking face. If we want to achieve an effect of fresh and youthful look, we need to treat all parts of our body with equal care to keep harmony among them. Treatments for chick, neck and cleavage are equally important as care for other areas.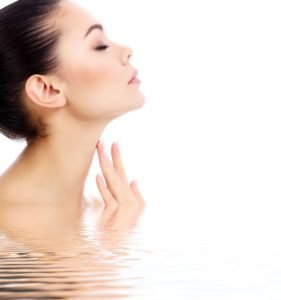 Treatment for chin, neck, and cleavage in Body Shape Garden
For best results of treatment on the chin, neck and shoulders should be made in two sessions:
non-invasive  Icoone Laser lifting and antiaging curation 
moisturaizing antiaging mask selected for your personal needs.
What results can you expect after our sessions?
fat deposits reduction in neck and chin area
jaw line redefined, 'the hamsters' decrease
smoothing of wrinkles on neck and clevage
firming of the skin
lifting of the lower parts of the face 
strong oxigenation of tissues
increase in production of collagen and elastine
general skin improvement after treatment for chin, neck and cleavage
Timing: about 1 h
Treatment for chin, neck and cleavage price list:
1 session – 279 zł
Package of 5 sessions- 1249 zł
Package of 10 sessions – 2199 zł
Check also our body shape treatment .